Did I miss out on my 20s because I got married young?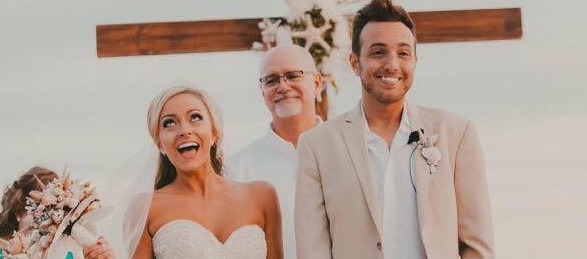 I knew when I got engaged at 19, I'd be faced with endless "requests" to wait to get married.
I knew when I got married at 20, I'd be faced with gasps when people discovered how old I was with a wedding band on my left hand.
What I didn't know was as years went by, I'd then be asked "Don't you feel like you missed out on your 20s?"
My answer: a big ole' NOPE. 
What am I crazy?! Your 20s are the time to explore yourself and others, the time to make mistakes that are typically only fun when you're single!!!!
I was the first of my friends to get married (duh, 20 years old). Getting married before I was legal to drink wasn't a concern of mine.
But how will you have fun?! How will you know what you like? How will you know WHO you like?! How will you discover yourself? 
Being married hasn't gotten in the way of me having fun. It hasn't gotten in the way of me "discovering myself." And it definitely hasn't gotten in the way of me knowing who and what I like i.e. my husband!
You know what goes through my mind after a night out with my friends at a bar?
"I can't wait to get home and cuddle with my husband!" (and maybe I'll bring home In-N-Out!)
What I think when I hit a milestone in my life?
"Kaleb is gonna be so excited and proud of me!" (He's my biggest cheerleader.)
When I see a cute guy out in public?
"Daaaamn….oh, that's Kaleb, I did good!" (I've caught myself checking out my husband in public a few times not realizing it was him! HA!)
I get to grow with my husband. One of the first things Kaleb said to me when we first started dating was "Taylor, either we'll grow together or we'll grow apart but either is okay." This was back when we were long distance and weren't sure what to make of our newfound relationship.
When I started college, my husband was there to send me off.
When I celebrated my 21st birthday, my husband was there to celebrate with me.
On the nights when I felt inadequate, my husband was there to hold me.
When I got my first "grown up"  job, my husband was there to cheer me on.
When I graduated college, my husband was there to congratulate me and laugh about how I'm the one with 2 degrees hanging in his office.
When I decided to switch career paths, my husband was not only there, he was my support system.
When people ask me if I feel like I missed out, there isn't usually time to go off on the list of how my husband is a fixture in my life that has improved vastly because he's apart of it. So instead, I'll just say "no" and let them use their imagination as to why.
Now, don't get me wrong, not everyone marries as young as me and I don't think everyone should feel like they need to get married as young as I did. Everyone is on their own life path with their own lessons to learn and choices to make. Some people find their true love further into adulthood and that is fantastic. It's not a race. It's all about doing what makes you truly happy.
And what makes me truly happy is being married to the love of my life, Kaleb Nation.