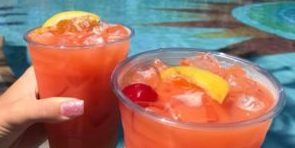 Hey y'all! I had the amazing joy a couple weeks ago to be able to take my mother on a surprise trip for her birthday!
My mom has wanted to go to the Bahamas for as long as I can remember. I was thrilled when I woke up one morning and realized I'm an adult now and am in a position to make that dream come true for my favorite woman ever. (Yes, Hunterbelle, you're my other favorite.)
I booked our flights and hotel then realized I should probably let my mother know what I just did. I called her up and quickly said, "Hey Mom, don't make any plans for September 21st to the 26th, okay? Love you, bye!"
My mom began questioning me left and right, "Taylor, WHAT are you doing?!" Sorry, Mom!
Following that news, I sent her a passport cover in the mail because I also realized I should probably make sure her passport isn't expired. I'm telling you, all that excitement over booking the trip clouded my brain for what I needed to actually make it happen smoothly. Oops!
I literally only gave my mom a packing list and told her to stop asking me where we are going. During this time, Hurricane Irma came through and knocked out most of the Caribbean. It was devastating to see. Somehow it completely bypassed the Bahamas. The trip was still on!
But wait, what about Hurricane Maria? I'm not sure how but fortunately for those who live (and visiting) in the Bahamas, Maria also bypassed the islands. My heart still breaks for those affected by Irma and Maria and I've been praying for them daily.
Travel Day
I flew out to meet my mom in Atlanta on a red-eye from LAX which left me with 7 hours to do nothing but be bored in the airport until she arrived. On top of the boredom, I was anxiously waiting for her to arrive at the airport to learn where we were going. Yep, that's right, SOMEHOW I managed to keep the destination a secret for a couple months. WHO AM I?
Finally after hours of trying to keep my eyes open, my mother's flight arrived into Atlanta where I almost didn't recognize her because of her cute new pixie 'do!
The flight from Atlanta to Nassau was not even 2 hours long, it was the most exciting 2 hours of the past 3 months. We landed and headed to customs. While we waited in line, there was an AWESOME band playing beside us some cool island tunes. Honestly, they kept me going after being sleep deprived from traveling for nearly 24 hours straight.
I set up a taxi service to pick us up from the airport and I am SO glad I did. We chose Sandra Ferguson Taxi & Tours. Sandra made it super easy to book the reservation, including a grocery store run. Their cars are SUPER clean and comfortable, making that last ride to the hotel even more pleasant. Her son, Ranaurd, picked us up and was very kind and helpful. I can't recommend them enough! If you'd like to read my full review, click here.
I booked our stay at Atlantis, which was another place my mother wanted to go to on this excursion. We stayed at the Coral Towers. I won't make this too long so if you'd like to read my very honest review click here.
After checking in, changing rooms and running all over the place: I had booked a massage for us at Mandara Spa. From our room to the spa was a solid 20 minute walk, making us all the more ready to relax!
I had booked a Mother/Daughter massage on the phone but was then told there must have been a mistake because that is only offered to kids under 12. Well, damn. We were bumped to a couples massage instead, more suitable for grown ups I suppose! The massage was great and the staff was very nice. If you'd like to read more about our experience click here.
After all that, we were more than ready to get settled in so we opted to order room service. Like mother like daughter, buffalo wings were gonna happen. The wings were bomb but were served with salsa instead of buffalo sauce. Bummed but starving, the wings disappeared pretty quickly. Onwards!
Swimming with Dolphins
This trip was about making my Momma's Bahamas dream happen so naturally that included meeting up with some dolphins! At Atlantis, they have the Dolphin Cay. There's several different dolphin excursions available but I opted for the waist-deep experience where we would learn more about dolphins, play with them, and get cute photos for a keepsake.
This honestly was one of my favorite moments of our whole trip! Our dolphin trainers were so kind and so funny, they really made this experience one to remember! Our group was very small so it allowed all of us to have time with the dolphins to pet them, feed them, and watch them swim around and be so damn CUTE!
We learned a ton about dolphins, including the fact that they can tell if humans are pregnant. I've never seen my mother snap her head over at me so fast, "TAYLOR, do you have something to tell me?!" Don't worry, Mom, you'll know before the dolphins do!
If you're considering a dolphin experience, I would definitely recommend this one. When we finished, we showered off, returned the wet suits and went to check out the photos we took. We opted for the 6 digital photos for $90. They have several different options but that one made the most sense to us. I didn't roll my eyes at the price because hello, this is dolphins we are talking about!
If you'd like to read my full review click here.
Bahama Mamas
The theme of our trip was to be relaxed and this was achieved by sitting poolside and indulging in some Bahama Mamas. We drank these exclusively. (I am sitting here laughing because it's so true.)
We decided to kick it beach-side to begin our trip. Fortunately, we were visiting during a slow season so there weren't many people on the beach. Un/Fortunately this left us to be outnumbered by vendors on the beach. I don't mind them much but when I'm laying down and my eyes are closed, that typically means I'd like to be left alone, please.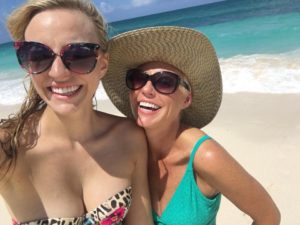 My little sister, Hunter, used to talk about sitting on the beach drinking out of a coconut for years as a child. She got to live that dream when she and the rest of my family went to visit my aunt, who lives in Hawaii, several years ago. However, we still think of her when we see such a thing. My mother ordered one coconut drink from one of the vendors. $10 and 2 sips later, it was empty. We laughed about it the rest of the trip.
After sitting beach side for a while, we decided we wanted to chill by the pool. Atlantis has literally so many pools, un/fortunately half of them were closed so our options were limited/less decision-making.
We first hopped into the Rapid Rivers, we thought this was a normal lazy river. Wow, were we wrong! It was SO fun! We went around and around several times. It was probably our favorite part of Aquaventure.
We also went down the Serpent Slide. I'll be honest, I nearly had a panic attack. I'm not a fan of confined dark places, while the ride is pretty fast, it felt like an eternity 'til we reached the shark tank part.
An unfortunate aspect of the water park was the closing time of 7pm. I don't know if this was because of the season or if full time it closes at 7pm. The other sad and unfortunate part is the bars all close at 6pm around the pool area. So if you wanted a drink, bottled water, food, etc. you're out of luck for that last hour of pool time.
To read my full review of Aquaventure click here.
The Straw Market
I can't reiterate enough how much we LOVED the Straw Market! It's in a giant warehouse sorta building in downtown Nassau by the cruise ship ports. There's aisles and aisles of vendors selling handmade items and touristy souvenirs. We went twice.
It certainly doesn't help that every vendor is kindly yelling out compliments.
"Hey beautiful ladies, come see my collection of t-shirts! You want hats? I got hats. You look so gorgeous, how about a fan? It's hot outside! Or maybe a camera made from a coke can?"
This is literally every 2 seconds, I loved it. Haha!
If you'd like to read my full review of the Straw Market click here.
Rum Cakes
Of course, we had to locate rum cakes while in the Bahamas. We stopped by Tortuga Rum Cakes and picked up a couple. Buyer beware: they're delicious but you can definitely taste the rum! Ha!
Marina Village
We had no idea this place even existed until the day before we left! It's a bunch of cute shops and restaurants right by Atlantis. Unfortunately, a lot of the places were closed but we did eat at Seafire Steakhouse.
The food was good but our waitress was so insanely nice. She had on this amazing glitter eyeshadow so naturally I had to ask her where she got it. She told me where but said she has it with her so she went and got it to show me what it looks like. THEN she goes, "Actually, I'm gonna be by there tomorrow so I could get it for you if you wanted to pick it up when I come back to work tomorrow evening." How much nicer can a stranger get? I wasn't able to take her up on that offer because we were leaving before then but it was such a nice feeling to have a total stranger be so kind!
Returning Home
Fortunately for us, we had beautiful weather our entire stay. Unfortunately, we had torrential storms on the way back which lead to a 3 hour flight delay, missing our second connecting flights then almost missing the final connecting flights for the day.
https://twitter.com/bfftaylor/status/912847939499945984
Then:
https://twitter.com/bfftaylor/status/912917146321211392
It was such a fun trip that I'm so glad I got to spend with my mom! We haven't had time together like that since I lived back home in high school. We both can't wait to plan our next trip to the Bahamas!