How I Survived Long Distance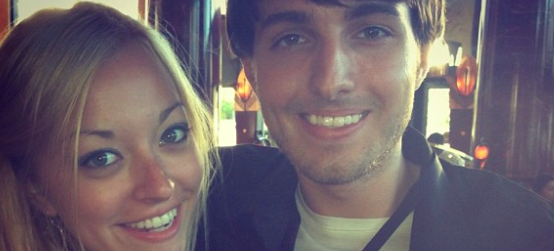 If you're at all familiar with the story of how my husband and I began dating, you probably know we started out long distance. Months before I moved to LA, Kaleb was already living there while I was at home in Alabama. There was 0 hesitancy when we started dating because I already had plans to move out but that didn't mean it wasn't hard.
Long distance is no joke and can be super stressful. We worked through it together though! Here's what we found to be helpful.
Communicate
This is literally the number one thing that kept us sane. While you can't see each other daily, keeping in touch via phone calls, texts, facetime etc. is helpful. Kaleb and I kept in contact every day, even on busy days we at least touched base once in the evenings.
https://www.instagram.com/p/5PmWpzEU92/
It's easy to fall into the trap of insecurity when you don't know what your significant other is up to. "What if they find someone better who lives nearby?" is a common fear. It helps to communicate those insecurities so it can be resolved. Kaleb is so busy that he isn't very quick to respond to texts. (Love you, babe!) When I freaked out calmly explained that when he doesn't answer for 12 hours during the day I think he's been kidnapped, (I'm a little bit of a worrier) he was quick to try harder to respond in a timely matter.
If I hadn't communicated (catch the theme here?) my feelings, we'd probably be stuck in the same cycle of him working and me thinking he's in a ditch somewhere instead of safely at his computer.
Plan Your Next Visit
Kaleb and I were pretty fortunate, we knew our long distance would come to an end eventually. But in the mean time, we planned our visits to see each other so we had something to look forward to. Waiting to be with someone you love can make people crazy. (Clingy ME especially.)
I'm a huge countdown person. I use the DreamDays app and I love it. I currently have a countdown for a Kesha concert, when one of my best friends comes back from tour, the next time we visit my family, Christmas, my birthday, the list goes on. I get anxious waiting on things but for some reason having a sort of timer helps me. It makes me feel a little more sane.
If you aren't able to visit each other just yet, countdown to other milestones or life events for the two of you. It's fun to be excited together!
Do Stuff Together
If being on the internet has taught me anything, it's that you don't have to be in person to have fun! Pre-Kaleb I made more internet friends by sitting on i'minlikewithyou / OMGPOP back in the day. There's plenty of websites and apps available to play games in real time or watch movies simultaneously.
Even when I'm out of town for only a few days, Kaleb and I find our way back to word games and pool. Talking is fun of course but being able to take part in activities together is fun too!
Another way to be involved with one another when you're far apart is to write to one another. Receiving letters and not bills is fun! Or send something that reminded you of them, a book you think they'd like, or in our case an Angry Birds piggy bank.
Feeling thought of is a great feeling especially when sometimes it feels like you're easily forgotten while being apart.
Long distance is a serious mood killer (why can't we just move where we want when we want?!) but can be totally worth it. Without it, I wouldn't have been able to date my now husband.