Nation Movie Nights: The Santa Clause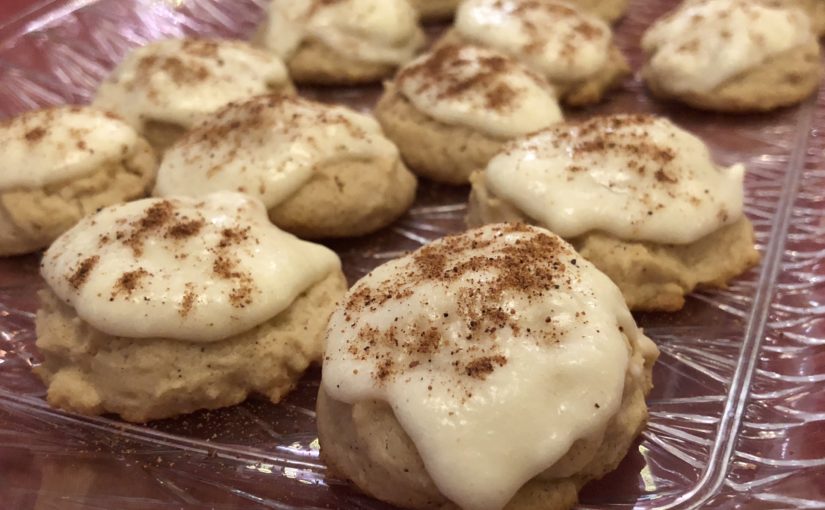 Christmas is approaching, (yes I know we aren't past Thanksgiving yet) which means the beginning of our annual Nation Movie Nights!
After Kaleb and I got married, we began hosting movie nights at our apartment for the weeks leading up to Christmas. We invite all of our friends and anyone else who is up to geek out over our favorite Christmas movies while stuffing our faces all evening!
This has become such a fun thing for us to look forward to and it has provided us this wonderful opportunity to spend more time with our friends who we consider family. A majority of us don't have family out here in Los Angeles so being able to come together like family is something that Kaleb and I especially love to do!
This is our 3rd year hosting this (also my 3rd year changing our tree decor…) but this time I wanted to document each night to share with you all!
Week 1: The Santa Clause
I don't know what it is about 90's Tim Allen movies but they feel like a must when cold weather approaches. (Or 67 degrees in LA)
Before you make fun of me for putting our tree up the day after Halloween, hear me out.
I'm from the south. We take Christmas very seriously. And I may or may not be traumatized from the year we didn't put our tree up until Christmas Eve. I was so upset and worried that we wouldn't get it up in time for Santa to come, people!
And here's your Thanksgiving sign for all you Christmas in November naysayers!
This year I decided, screw it, I want a damn beach tree so I texted Kaleb a photo of beach ornaments and he said, "Yes, dear." Best husband ever.
In past years, I always matched our ornaments to our living room color scheme. 2 years ago it was black, red, and silver. Last year it was blue, red, silver. This year is blue, silver, and way more fun under the sea ornaments! (Still searching for that perfect mermaid one though…)
I found this beach angel last year and completely forgot that my mom bought it for me! It goes perfectly.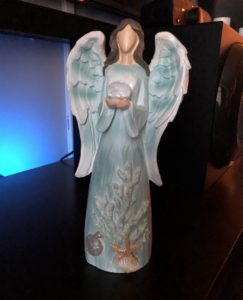 My younger cousin started her own shop of handmade beach items so she gifted us this beautiful shell cross ornament. I love it!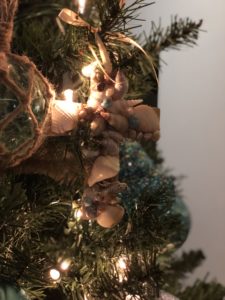 Here's what we decided to snack on:
Chicken Nugget Platter

We ordered a chicken nugget platter to kick off our movie nights because A) I was way too busy this week to prepare a better main course. B) Everyone loves it!

Queso 

Because if we don't have queso, is it really a Nation get-together?

Veggie Platter

We need some sort of healthy option I suppose…

Apple Cider Jell-O Shots 

Because we're grownups who enjoy booze & Jell-O.

Ingredients:

1 cup water
2 cups hard apple cider
1/2 cup Fireball whiskey
1/2 cup sour apple schnapps
2 envelopes Knox gelatin

Directions:

Microwave water until it's boiling. Combine gelatin with water and stir gently until it's fully dissolved.
Pour in hard apple cider, Fireball whiskey and sour apple schnapps. Mix until combined.
Let cool before pouring them into plastic shot glasses. Donezo!

Eggnog Cookies

Let's get this season started right with some eggnog! I borrowed this delicious one from Jaclyn at Cooking Classy. Click here for the recipe!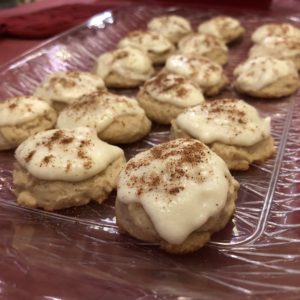 And now onto planning for next week!